History
Initiative for Equality (IfE) was started in 2011 by a founding Board of Directors and Board of Advisors.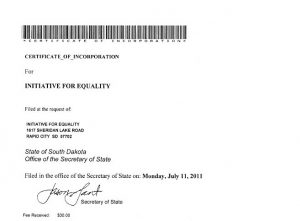 Activities and Milestones
2018
18 April 2018: IfE partners along with IfE's President present Side Event entitled "A Cry of Alarm: Twa and Mbuti People Under Assault" at meetings of the United Nations Permanent Forum on Indigenous Issues (UNPFII) 17th Session at the UN Headquarters in New York; speakers: Vicar Batundi Hangi (DR Congo), Adrien Sinafasi (DR Congo), Deborah Rogers (US)
19 April 2018: IfE partners developed and circulated a petition, signed by 77 organizations, asking the UN's Special Rapporteur on the Rights of Indigenous Peoples to visit the African Great Lakes region to gather information on the desperate situation of the Twa and Mbuti peoples; this was presented to the Special Rapporteur on 19 April at the UN Headquarters in New York, along with documentation on specific human rights abuses including illegal imprisonment, torture, individual killings, land grabs, deaths through starvation, and mass killings of Twa and Mbuti people; the Special Rapporteur agreed to look into the situation and asked IfE to continue providing documentation of abuses and killings
19 April 2018: IfE partners met with Mr. Ugo Solinas, Principal Officer/Team Leader for MONUSCO, Department of Peacekeeping Operations at the UN Headquarters in New York; we expressed our outrage about the mass killings of Batwa people, and asked MONUSCO to play a more effective role in stopping these attacks.
April 2018: Book chapter by IfE's Deborah Rogers, "The Urgency of Systemic Change: The Global Refugee Crisis", published in compilation of KPFA radio interviews entitled "Follow the Money: Radio Voices for Peace and Justice" (Bernstein & Enteen, editors).
08 June 2018: IfE partner Vicar Batundi Hangi of FDAPID (Foyer de Développement pour l'Autopromotion des Pygmées et Indigènes Défavorisés) in DR Congo elected Vice-President of Civil Society in Goma (a city of 1 million in eastern DR Congo); this is an influential position that is part of the governance system in DR Congo
2017
16-17 January 2017: IfE partner organizations in African Great Lakes region meet in Bukavu, DR Congo, to develop a multi-ethnic collaborative project to protect the rights and survival of Indigenous BaTwa and BaMbuti people in the region.
January – September 2017: IfE Advisors and Directors review and update IfE's Mission Statement and related objectives and priorities for action
July 2017: IfE's Board of Advisors voted to establish a committee to draft Terms of Reference for the possible future establishment of IfE Chapters
August 2017: IfE partners in African Great Lakes region release Field Reports on human rights abuses and killings of Indigenous Batwa and Bambuti people, and call for international support
August 2017: News and analysis article on Field Reports and killings of Indigenous Batwa and Bambuti people written by IfE's Deborah Rogers; published by Truthout, Pambazuka News, Global Research, allAfrica, and other news outlets.
August 2017: IfE forms a Coordination Task Force to coordinate volunteer activities
September – October 2017: IfE partners in South Africa develop project to support refugees and migrants in South Africa through legal justice and community activism
04 October 2017: IfE's Deborah Rogers interviewed about the killings of Indigenous Batwa and Bambuti people in DR Congo and what IfE partners in the region are doing to end the attacks and rights abuses; on "Flashpoints", KPFA Radio
04 November 2017: IfE panel discussion at Left Forum conference in Los Angeles, California, on why international activist collaborations are essential and best approaches; entitled "Transnational Solidarity in Social Justice Movements;" speakers: Ugo Nwokeji (Nigeria), Jiwon Chung (Korea), Deborah Rogers (US)
November 2017: IfE partners in Bangladesh establish a plan to assist the Rohingya and the Tribal Hills Tracts Indigenous people living in the region of the Rohingya refugee camps
December 2017: IfE partners in Kenya establish a plan to work in informal settlements across the country to bring political skills and empowerment to these poor communities, in the context of ethnic manipulation by national-level politicians
December 2017: IfE partners in Nepal establish a plan to facilitate effective participation by poor communities under the new constitution which allows more local input into national governance
2016
January – March 2016: formal collaboration arranged with 15 organizational partners in DR Congo, Burundi and Uganda ("Regional Initiative for the Promotion of Peace and Human Rights in the Countries of the African Great Lakes"); funding requests submitted to support several projects
January – May 2016: Field Hearings held in 11 communities in DR Congo and Burundi; more are in the planning stage
February 2016: chapter on Field Hearings, poverty & inequality published: Rogers, D and Balázs, B. "The View from Deprivation: Poverty, Inequality, and the Distribution of Wealth." In: Pogge, Köhler, Cimadamore, (eds). Poverty & the Millennium Development Goals (MDGs): A critical assessment and a look forward. London: Zed Books.
February – June 2016: IfE's Board of Directors reviews and revises presentation of IfE's work and budget, and calls for volunteer to redesign website
March – April 2016: four formal collaborations arranged with groups of partners in Ghana, Kenya, Nigeria and South Africa, all focused on using Field Hearings to promote democracy and open government; funding requests submitted to support these projects
April 2016: IfE's Equality Action Collaborative Tech Committee announces results of year-long search for more stable, private and secure communications platforms for IfE committees and groups (selected "Telegram" and "TitanPad")
May 2016: IfE intern Oscar Volpe begins working on research project on relationship between income inequality and civil protest
May – July 2016: IfE partners in South Africa develop project to support mining-affected communities to assert their rights and priorities with the mining companies and government agencies
June 2016: Simon Olagai  submits Field Hearings reports from 2 communities of Ebola survivors in Sierra Leone
06 June 2016: IfE's Rogers presents community requests and priorities for our Field Hearings at UN Multi-stakeholder Forum on Science, Technology and Innovation for the Sustainable Development Goals, Side Event sponsored by International Council for Science (New York)
30 June 2016: IfE reaches 317 FIeld Hearings partners in 84 countries
June & July 2016: IfE website redesigned and rebuilt with help from volunteer Angel Tian, a website design professional
June & July 2016: project on open government, citizen participation and mining-impacted communities developed with South African partners – Community Initiative for Social Enhancement (CISE), Mining Affected Communities United in Action (MACUA), Organization of African Youth (OAY), and Oxfam South Africa (OZA); however, funding later turned down
16 July 2016: IfE's Rogers speaks on links between privatization and inequality in post-communist transition economies (former Soviet states as well as Eastern Europe) at LaborFest's International Conference Against Privatization (San Francisco)
2015
January – May 2015: developed Participatory Monitoring & Accountability Alliance through network-wide consultation, Board decisions, development of concept, identification of partners
January – May 2015: new Field Hearings Regional Coordinators on board (Roberto Guimaraes – Brazil; Roy Guevara Arzu – Honduras); translated all Field Hearings materials into Spanish and Portuguese; began outreach in Latin America
February 2015:  Deborah Rogers co-authored chapter along with Richard Wilkinson on Goal 10 – Reducing Inequalities, for International Council for Science (ICSU) publication critiquing the new Sustainable Development Goals (SDGs)
12 February 2015: Deborah Rogers interviewed live on Al Jazeera English news hour about critique of SDGs and participatory monitoring
19 April 2015: Deborah Rogers presented workshop on leadership in Oakland, CA
23 April 2015: Deborah Rogers participated in working group on participatory data at UCLA School of Public Health conference (organized by WORLD Policy Analysis Center)
22 May 2015: new 33-person global Field Hearings Steering Committee convened
31 May 2015: Field Hearings National Committee authorized for Honduras by Field Hearings Steering Committee
June 2015:  ECOSOC accepts statement on participatory monitoring for distribution at upcoming UN High-level Political Forum discussions on implementation of SDGs; by Deborah Rogers and Aliou Barry (Guinea-Conakry) of IfE BOA
May-June 2015: IfE Field Hearings partners in Nepal organize a citizen monitoring network to monitor the earthquake relief response and hold the government accountable for appropriate implementation
June 2015: IfE Field Hearings partners in West Africa design Field Hearing for Ebola survivors, to be conducted by partners in Sierra Leone
June 2015: present workshop on New Economy approaches at U.S. Social Forum in Philadelphia (co-sponsored by Poor People's Economic Human Rights Campaign)
June-July 2015: IfE Field Hearings partners in Pakistan organize to conduct special Field Hearings on conflict and violence across Pakistan, coordinated by Organization for Social and Economic Change
27 August  2015: Deborah Rogers presented talk on overcoming corruption and abuse of power through coordinated citizen efforts (international Balaton Group meetings on corruption and abuse of power)
02 & 10 September 2015: Deborah Rogers interviewed on KPFA Radio "Flashpoints" show regarding the global refugee and migrant crisis, and its relationship to inequalities
September 2015: IfE launches global consultation on what should be done to address the refugee and migrant crisis
24 September 2015: Deborah Rogers presented talk on Goal 10: overcoming inequalities between nations (UN Indonesian Permanent Mission, New York) – one day before UN General Assembly adopts full Sustainable Development Goals
28 September 2015: first meeting of Equity Action Collaborative Action Group #6 "Arts for Equality" – developing messages about inequalities and transformation to equality through story-telling and the arts
21 – 23 October 2015: Deborah Rogers participates in Expert Working Group for UN's Department of Economic and Social Affairs (DESA), presenting ideas on how to implement and monitor progress towards attaining Goal 10 on inequalities.
October – November 2015: IfE's Climate Justice Committee releases International Civil Society Call to Address Inequalities and Social Justice in Climate Change Policy; 209 organizations from over 50 countries co-sign the statement; IfE partners feed it into the COP21 Paris Climate Summit through national negotiators
06 December 2015: IfE's Field Hearings Steering Committee adopts new policy governing democratic selection process for Country Coordinators, Regional Coordinators, Global Coordinator, and Field Hearings Steering Committee members.
10 December 2015: Deborah Rogers interviewed on KPFA Radio "Flashpoints" show regarding IfE's "International Civil Society Call to Address Inequalities and Social Justice in Climate Change Policy"
2014
27 January 2014: Anna da Costa article on Field Hearings published by Thompson Reuters Foundation
31 January 2014: IfE and Field Hearings partners developed stand-alone goal on equality and associated measurable targets and submitted to UN Open Working Group for consideration as a new Sustainable Development Goal
13 February 2014: Bálint Balázs spoke on Field Hearings and poverty reduction at European Commission's European Economic and Social Committee (EESC) meetings in Brussels
February 2014: Dillip Pattanaik presented Field Hearings at European Commission's DG-ECHO workshop in Brussels
03 April 2014:  Akhteruzzaman Sano discussed IfE's New Economy Project  at UN's Intergovernmental Committee of Experts on Sustainable Development Financing meetings in Helsinki, Finland
09-10 April 2014:  Akhteruzzaman Sano spoke for IfE and the Field Hearings network at the UN General Assembly and Economic and Social Council (ECOSOC) Joint Thematic Debate on the Role of Partnerships in Implementing the Post-2015 Development Agenda
27-28 April 2014: IfE's Deborah Rogers was an invited expert at UNESCO meetings in Paris to discuss re-framing the UN's development agenda from "aid & charity" to "justice & equality"
05-07 May 2014: UN's G77 countries plus China make strong statement to Open Working Group in favor of stand-alone goal on equality in new SDGs; use language from IfE's 31 January proposal
06 May 2014: IfE's Equity Action Collaborative launches global poll to take input on top priority equality-related issues
02 June 2014: UN's Open Working Group releases Zero Draft with Stand-alone Goal on Equality as proposed by IfE in November 2013 and again January 2014
05 June 2014: Priscilla Achakpa makes presentation on Field Hearings project at Conference of Parties (COP) World Environment Day meetings in Bonn, Germany
09 June 2014: UN selects IfE's Field Hearings network for full report as part of their Participatory Monitoring and Accountability consultation
13 June 2014: IfE submits proposed revisions to wording of Stand-alone Goal on Inequalities and all equality-related targets to UN's Open Working Group
11-16 June 2014: IfE's Deborah Rogers facilitates coordinated global civil society response to UN's Open Working Group's proposed Goal 10 on Inequalities and associated targets; joint statement presented on 16 June 2014
24 June 2014: IfE's Rogers sends joint letter calling for the retention of Goal 10 on Inequalities -in response to proposal to drop the goal, and signed by over 170 civil society groups – to co-chairs of the Open Working Group
30 June 2014: Open Working Group changes its mind and retains the stand-alone Goal 10 on Inequalities in their final outcome document to be presented to the UN General Assembly
27-29 August 2014: IfE's Deborah Rogers plays role in 65th Annual UN DPI NGO Conference "2015 and Beyond: Our Action Agenda" in New York at UN HQ: speaks on inequalities in participation at round-table discussion, and sits on Steering Committee to take input from conference attendees and help draft conference outcome "Declaration" – segment on inequalities; see fundraising email here: email-fundraiser-august-2014
29 August 2014: IfE Field Hearings Partners Anibal Vivaceta de la Fuente (Chile) and Cheri Honkala (US) present workshop at UN DPI NGO Conference
05 September 2014: IfE Field Hearings partners from Asia, Africa, South America, Europe and North America submit co-authored report on the Field Hearings Network as requested by the UN's Participatory Monitoring and Accountability Consultation
21 September 2014: Proposal to launch 6 Equity Action Collaborative "Action Groups" authorized by IfE Board of Advisors
28 September 2014: Proposal for IfE's Participatory Enterprises (PARTICEN) Project authorized by IfE Board of Advisors
28 September 2014: new Nominations and Elections policy adopted by IfE's Board of Advisors
September – November 2014: Deborah Rogers appointed to organizing committee for Beyond 2015 Copenhagen conference; co-organized workshop on bringing citizen participation (especially from poor, socially excluded or marginalized communities) into civil society organizations as well as public decision-making processes
13-14 November 2014: Deborah Rogers spoke at final high-level session of Beyond 2015 Copenhagen conference
15 December 2014: Deborah Rogers essay on ending poverty and inequality published by Copenhagen Consensus Center in their "Viewpoint" series on the new SDGs
2013
March 2013: Steering Committee finalized plans for Phase Two Field Hearings
April 2013: began recruiting for Phase Two of Field Hearings
27 April 2013: IfE co-sponsored DemoFest in Prague; Deborah Rogers presented workshop & keynote speech on pivatization and growing inequalities in Central & Eastern Europe
April – September 2013: Regional Coordinators appointed for East Africa, West Africa, Central Africa, Southern Africa, East & Southeast Asia, Central Asia, South Asia, Middle East & North Africa, Central & Eastern Europe, Western Europe
24 July 2013: the first Phase Two Field Hearings are conducted in Gary, Indiana (US) by partner Ellen Szarletta
August 2013: IfE reaches 250 Field Hearings partners in 67 countries
August 2013: signed MOU with Stakeholder Forum to cooperate in their e-Inventory process for soliciting input on Sustainable Development Goals
August – November 2013: Country Coordinators appointed for Nepal, Bangladesh, India, Sri Lanka, Pakistan, Philippines, Ethiopia, Kenya, and Uganda
02 September 2013: first IfE country meeting (Kathmandu, Nepal)
06 September 2013: second IfE country meeting (Dhaka, Bangladesh)
07 September 2013: third IfE country meeting (Kampala, Uganda)
18 September 2013: fourth IfE country meeting (Negombo, Sri Lanka)
22 September 2013: Priscilla Achakpa presented Field Hearings project to stakeholders' meeting at UN in New York during General Assembly meetings
26 September 2013:  fifth IfE country meeting (Manchester, UK)
28 September 2013: conceptual proposal for New Economy Project adopted by NEP Steering Committee
October 2013: Akhteruzzaman Sano discussed Field Hearings at UN DESA (New York) meetings for mainstreaming SDGs in national strategic planning processes
20 October 2013: Equity Action Collaborative (EAC) Coordinating Committee adopted EAC's "Founding Charter"
late October – early November 2013: Country Coordinating Committees formed for "Engaging Marginalized Communities" initiative in Kenya, Tanzania, Uganda, Nigeria, Ghana and Liberia; they developed country plans and got signed Letters of Commitment from government agencies
08 November 2013: first meeting of the Field Hearings Global Advisory Committee (delegates from global and regional networks)
17 November 2013: first informal "direct donor" social gathering held in Oakland, California
25 November 2013: IfE President Deborah Rogers spoke about Field Hearings, economic growth, poverty reduction and inequalities to UN Open Working Group (OWG) as one of two civil society speakers; IfE invited to provide stand-alone goal on equality to be considered by the OWG for the new Sustainable Development Goals
05 December 2013: Nfor Monde Kingsley article on Field Hearings published by InterPress Services
31 December 2013: IfE reaches 270 partners in 80 countries
2012
February 2012: Equity Treaty Circle convened by IfE, and negotiations begin
February 2012: IfE website launched
February 2012: Equity & Sustainability Field Hearings begin
March 2012: IfE's Rogers and de Zoysa convene session on equity and sustainability at Planet Under Pressure conference in London; hold press conference and present talks
March 2012: IfE cohosts international meeting on Equity Treaty in London
May 2012: Zero Draft of Equity Treaty circulated for comment
June 2012: Equity Treaty finalized and opened for signatures
June 2012: Equity Treaty presented at Rio+20 Summit side events and parallel People's Summit
June 2012: Field Hearings report finalized and released
June 2012: Field Hearings project and report presented at Rio+20 Summit side events, People's Summit events, and International Social Sciences Council conference, all in Rio
July 2012: article by IfE's Rogers on the evolution of inequality published in popular science magazine "New Scientist"
August 2012: chapter on "Equity and Sustainability" by IfE's Rogers published in Springer online reference book
September 2012: IfE's Equity Action Collaborative planning committee begins meeting
September 2012: IfE's New Economy Project Steering Committee begins meeting
October 2012: "Waiting to be Heard: Preliminary Results of the 2012 Equity & Sustainability Field Hearings" Report re-released globally, with calls for feedback
November 2012: Equity & Sustainability Field Hearings Project Phase Two planning begins
December 2012: five new Advisors elected; one new Director elected
2011
July 2011: IfE founding Board of Directors files Articles of Incorporation under South Dakota state law as a non-profit charitable organization
July 2011: IfE's Deborah Rogers and Uchita de Zoysa session on "Equity, Equality and Pathways towards Sustainability" selected for Planet Under Pressure conference (London, March 2012)
September 2011: IfE participates in UN DPI Civil Society Organizations conference in Bonn, Germany
October 2011: IfE's Rogers lectures at Asia Pacific Network workshop "Asian Development Pathways and Transitioning Towards a Green Economy" in Nanjing, China
05 November 2011: first meeting of IfE Board of Advisors
November 2011: IfE designated as Collaborating Partner for Equity component of Rio+20 parallel civil society processes, including global "Equity and Sustainability Treaty"
December 2011: Rio+20 Field Hearings partners identified and plans laid
###