Scroll down to read this article in English.
Le chef Jean-Marie Kasula et ses coaccusés attendent maintenant depuis 17 mois que la justice congolaise se prononce sur leur appel.
Fin 2018, Kasula et sa famille élargie de peuples autochtones Batwa sont retournés sur leurs terres d'origine, désormais dans les limites du parc national de Kahuzi Biega, dans l'est de la République démocratique du Congo. Après avoir été expulsés du parc, vivant sans terres ni revenus pendant 43 ans et voyant l'échec des négociations pour des terres alternatives, ils étaient désespérés. Ils sont retournés au parc pour survivre.
Ils ont vécu paisiblement chez eux dans la forêt jusqu'au 25 janvier 2020, date à laquelle ils ont été brutalement arrêtés lors d'un raid nocturne par l'armée et les écogardes du parc. Ils ont été jugés, reconnus coupables et condamnés à 15 ans de prison – le tout le 04 février 2020 – sans être autorisés à présenter une défense. Avec l'aide juridique de notre partenaire RCF-RDC, ils ont déposé un recours quelques jours plus tard.
Au cours des 17 derniers mois, que s'est-il passé?
* Les gestionnaires du parc national de Kahuzi Biega et l'agence gouvernementale de conservation (Institut congolais pour la conservation de la nature) ont attaqué à plusieurs reprises Kasula avec de fausses accusations dans les médias et dans la salle d'audience, et ont diffusé de fausses rumeurs dans sa communauté locale. Ceci est particulièrement inacceptable, étant donné que Kasula était l'un des principaux partisans du processus de négociation dans lequel le Parc s'est engagé, mais n'a pas ensuite respecté. Ils ont également lancé des attaques contre d'autres organisations qui travaillent pour soutenir les droits fonciers des Batwa et les droits humains liés au parc.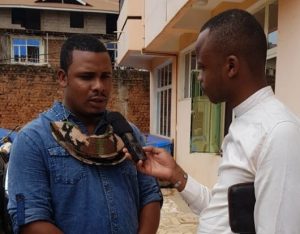 * En prison, plusieurs des prisonniers, dont le chef Kasula, sont tombés gravement malades. Nous avons discuté avec les autorités pénitentiaires, apporté de la nourriture et, à un moment donné, nous avons même payé une chambre spéciale et acheté un lit – le tout en vain. Les prisonniers n'avaient pas assez à manger et étaient obligés de dormir dehors sur le sol dans les eaux usées brutes, ou bien dans des conditions si surpeuplées à l'intérieur qu'ils ne pouvaient pas s'allonger. Un homme – Chekanabo Kayeye – est tombé gravement malade.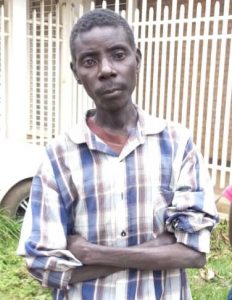 * Le juge a autorisé Kasula et Chekanabo à quitter la prison le 27 août 2020, dans l'attente de leur appel. Cependant, Chekanabo ne s'en est jamais remis et est décédé le 25 avril 2021, en attendant toujours une décision en appel. Kasula a été rapidement ré-arrêtée dans des circonstances suspectes. L'arrestation, effectuée avec des armes militaires dans une zone reculée du parc où les écogardes ne patrouillent normalement jamais, a été filmée et semblait être scénarisée. Malgré l'éloignement, en quelques heures, la vidéo a été diffusée sur les réseaux sociaux par une ONG créée et financée par le Fonds mondial pour la nature (WWF) et la Banque mondiale.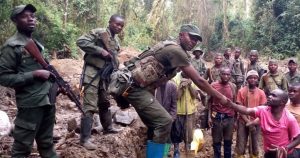 * Le juge a également autorisé les deux femmes condamnées à quitter la prison le 30 juillet 2020, dans l'attente de leur appel. L'une d'entre elles – la femme de Kasula, Faida Bahati – a appris la semaine dernière qu'elle avait besoin d'une césarienne pour sauver son bébé et sa propre vie. Sans revenu et son mari de retour en prison, elle était terrifiée à l'idée de mourir. Mais heureusement, nous avons réussi à réunir les fonds nécessaires et, dimanche, nous l'avons emmenée dans un hôpital avec des médecins formés à Panzi, l'hôpital du lauréat du prix Nobel, le Dr Denis Mukwege. Nous vous tiendrons au courant du résultat !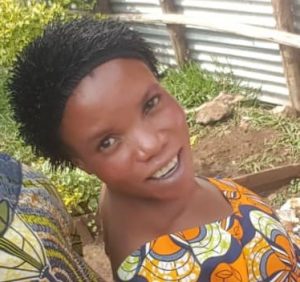 * Au cours de l'année écoulée, nous avons collecté des fonds pour soutenir l'appel en justice, mené par une fantastique équipe d'avocats basée à Bukavu, sous la direction de Maître Adele Bisharwa, avec RCF-RDC et d'autres partenaires de notre réseau appelé RIFE. En plus des dossiers juridiques, ils ont mené des recherches et des audiences sur le terrain pour identifier les preuves et les témoins. Nous honorons ces avocats et nos partenaires ! Nous apprécions également grandement le soutien financier des donateurs individuels à IfE et de quatre autres organisations internationales qui ont soutenu le procès (Amnesty International, Survival International, Minority Rights Group et Forest Peoples Programme). Cependant, il y a encore des dépenses pour les accusés ainsi que pour le reste de l'équipe.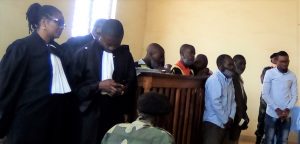 VEUILLEZ FAIRE UN DON MAINTENANT
Le chef Kasula et les six accusés restants continuent d'attendre, semaine après semaine, mois après mois, que le système judiciaire congolais fonctionne. Chaque fois qu'une audience est programmée, ils comparaissent devant le tribunal, craintifs et pleins d'espoir – pour être déçus lorsque l'affaire est à nouveau reportée.
Ce qui est en jeu, ce sont les droits humains de cette famille élargie qui a osé rentrer chez elle après 43 ans de vie dans une pauvreté abjecte, et les droits autochtones du peuple Batwa qui ont vu presque toutes leurs terres et leur autonomie leur être retirées au cours des 70 dernières années.
Alors nous continuons à nous battre, et à attendre…
---
Chief Jean-Marie Kasula and his seven co-defendants have now been waiting for 17 months for the Congolese court to make a decision on their appeal.
In late 2018, Kasula and his extended family of indigenous Batwa people returned to their original lands, now within the boundaries of Kahuzi Biega National Park in eastern Democratic Republic of the Congo. After being expelled from the Park, living without lands or income for 43 years, and seeing the failure of negotiations for alternative lands, they were desperate. They returned to the Park in order to survive.
They lived peacefully at home in the forest until 25 January 2020, when they were brutally arrested in a night-time raid by the army and the park ecoguards. They were tried, convicted and sentenced to 15 years in prison – all on 04 February 2020 – without being allowed to present a defense. With legal assistance from our partner, RCF-RDC, they filed an appeal a few days later.
Over the past 17 months, what has happened?
* The managers of Kahuzi Biega National Park and the government conservation agency (Congolese Institute for Nature Conservation) have repeatedly attacked Kasula with false accusations in the media and in the courtroom, and have disseminated false rumors in his local community. This is especially unacceptable, given that Kasula was one of the main supporters of the negotiation process that the Park engaged in, but then failed to respect. They have also launched attacks on other organizations that work to support Batwa land rights and human rights related to the Park.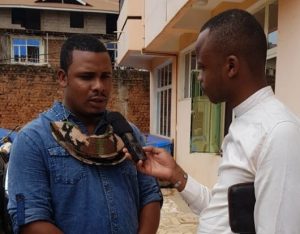 * In prison, several of the prisoners, including Chief Kasula, became severely ill. We talked with prison authorities, brought food, and at one point even paid for a special room and purchased a bed – all to no avail. The prisoners were not given enough to eat, and were forced to sleep outside on the ground in raw sewage, or else in conditions so crowded inside that they could not lie down. One man – Chekanabo Kayeye – became critically ill.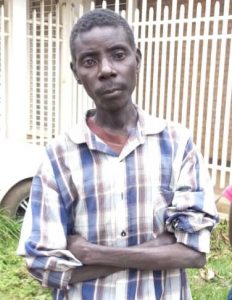 * The judge allowed Kasula and Chekanabo to leave the prison on 27 August 2020, pending their appeal. However, Chekanabo never recovered, and died on 25 April 2021, while still waiting for a ruling on the appeal. Kasula was quickly re-arrested under suspicious circumstances. The arrest, made with military weaponry in a remote area of the Park where the ecoguards normally never patrol, was filmed and appeared to be scripted. Despite the remote location, within a few hours the video was being circulated on social media by an NGO created and funded by the World Wide Fund for Nature (WWF) and the World Bank.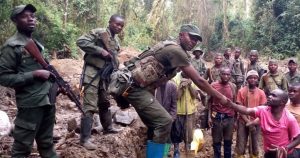 * The judge also allowed the two convicted women to leave the prison on 30 July 2020, pending their appeal. One of them – Kasula's wife, Faida Bahati – learned last week that she needs a cesarean to save her baby and her own life. With no income and her husband back in prison, she was terrified that she would die. But fortunately we managed to raise the needed funds, and on Sunday took her to a hospital with doctors trained at Nobel Laureate Dr. Denis Mukwege's hospital, Panzi. We will let you know the outcome!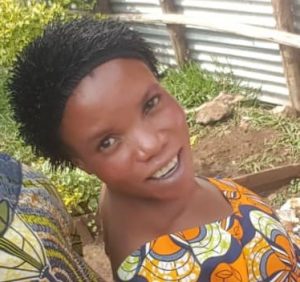 * Over the past year we have raised money to support the legal appeal, carried out by a fantastic team of attorneys based in Bukavu, under the direction of Attorney Adele Bisharwa, along with RCF-RDC and other partners in our network called RIFE. In addition to legal filings, they have conducted research and field hearings to identify evidence and witnesses. We honor these attorneys and our partners! We also greatly appreciate the financial support from individual donors to IfE, and from four other international organizations who have supported the lawsuit (Amnesty International, Survival International, Minority Rights Group and Forest Peoples Programme). However, there are still expenses for the defendants as well as for the rest of the team.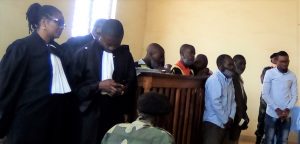 Chief Kasula and the six remaining defendants continue to wait, week after week, month after month, for the Congolese court system to function. Each time a hearing is scheduled, they appear in court, fearful and hopeful – only to be disappointed when the case is once again postponed.
What's at stake are the human rights of this extended family that dared to go home after 43 years of living in abject poverty, and the indigenous rights of the Batwa people who have seen almost all of their lands and autonomy taken from them over the past 70 years.
So we continue to fight, and to wait…
#####