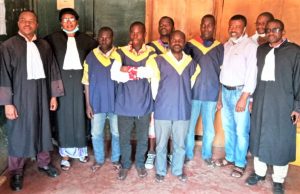 (in English below)
Vendredi 30 juillet, le tribunal militaire de Bukavu a annoncé sa décision d'annuler substantiellement les condamnations du chef Jean-Marie KASULA et de sept autres accusés qui avaient été arrêtés à janvier 2020 lors d'une descente nocturne dans leur village par les FARDC et les écogardes du parc national de Kahuzi Biega.
Ils ont été arrêtés puis inculpés d'association criminelle, de possession d'une arme de guerre et de destruction méchante de la nature. Après un procès-spectacle d'une journée devant un tribunal militaire de garnison, sans possibilité de se défendre, les huit ont été condamnés. Six hommes ont été condamnés à 15 ans chacun, et deux femmes à un an chacune, et au paiement de 5000$ US chacun pour les huit.[1]
Les condamnations ont été immédiatement appelées par les avocats du Réseau Congolais des Forestiers (RCF-RDC), qui a une longue histoire de défense des droits autochtones et de promotion de la foresterie communautaire autochtone. Le procès a recueilli un soutien national et international, avec plus de 100 organisations à travers la RDC et dans le monde entier aidant à promouvoir et à financer l'effort.[2] L'appel devait initialement être entendu en mai 2020, mais des retards répétés de la part de la Cour et des procureurs ont reporté les audiences jusqu'en avril 2021.
Pendant ce temps, la surpopulation, les conditions insalubres et le manque de nourriture dans la prison ont conduit plusieurs des hommes condamnés à tomber gravement malades. Quatre ont été libérés dans l'attente de l'appel (deux femmes et deux hommes, dont le chef KASULA lui-même), mais Kasula a été de nouveau arrêté après son retour dans le parc. CHEKANABO KAYEYE, l'autre homme qui a été libéré, est décédé fin avril 2021 des suites de la maladie qu'il avait contractée alors qu'il était en prison.[3]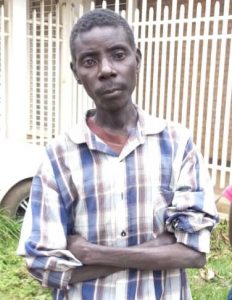 L'appel judiciaire était fondé sur les motifs suivants:
que les accusés n'étaient pas une « association criminelle » formée pour piller le parc national, mais plutôt une famille retournant sur ses terres traditionnelles

que l '« arme de guerre » (une arme à feu du type utilisé par les écogardes et de l'armée) avait été retrouvée sur le sol par la famille de KASULA, qui ne savait pas comment l'utiliser et prévoyait un voyage pour la remettre aux autorités le lendemain

que les défendeurs ne se livraient pas à une destruction méchante de la nature, mais étaient retournés dans le parc pour se livrer à des pratiques de subsistance en dernier recours pour rester en vie, en l'absence de toute autre option ; le parc étant leur mère nourricière

que le processus de l'audience initiale et des condamnations a enfreint la plupart des règles de procédure conçues pour garantir des procès équitables et impartiaux
La décision de vendredi du tribunal militaire de garnison de Bukavu a rejeté l'accusation d'« association de malfaiteurs », réduit les peines de 15 ans à 15 mois (déjà purgées) et réduit les amendes de 5 000 $ à 500 $. Les prisonniers doivent être libérés lundi.
Ce cas est significatif dans le contexte d'un mouvement mondial croissant pour mettre fin à la soi-disant « conservation coercitive » fondée sur l'expulsion des peuples autochtones et des communautés locales.[4] Des études récentes ont montré que le respect du droit des peuples autochtones à rester sur leurs terres riches en biodiversité protège non seulement les droits de l'homme, mais est également plus efficace pour prévenir le braconnage et la déforestation.[5]
Nous remercions chaleureusement :
la fantastique équipe d'avocats à Bukavu, dirigée par Maître Adèle BISHARHWA

notre merveilleux partenaire RIFE, RCF-RDC, qui a assuré la recherche continue, et le soutien logistique et administratif, sous la direction de M. Elikia AMANI

les organisations internationales (Amnesty International, Minority Rights Group, Forest Peoples Programme, Survival International et Initiative for Equality) qui ont financé l'effort

L'avocat Lassana KONE du FPP, qui a fourni un examen et des conseils continus tout au long de l'affaire

toutes nos organisations partenaires RIFE dans la province du Sud-Kivu qui ont apporté des informations, des perspectives et de l'aide.
Voir une vidéo de l'annonce du tribunal le vendredi 30 juillet ici [6] et lire un article à ce sujet ici [7].
Communique de presse 02 aout 2021 FINAL
Veuillez vous joindre à nous pour célébrer cette victoire des Peuples Autochtones dans la lutte en cours pour récupérer leurs droits fonciers, leur survie économique, leur autonomisation et leur bien-être !
[1] https://www.initiativeforequality.org/indigenous-batwa-sentenced-prison-reoccupying-traditional-lands/
[2] https://www.initiativeforequality.org/declaration-de-solidarite-avec-les-peuples-autochtones-emprisonnes/
[3] https://www.initiativeforequality.org/attend-toujours-une-decision-still-waiting-decision/
[4] https://initiativeforequality.org/wp-content/uploads/Aires-Prot%C3%A9g%C3%A9es-en-RDC_Syst%C3%A8me-D%C3%A9faillant-FINAL-FR.pdf
[5] https://initiativeforequality.org/wp-content/uploads/Evidence-on-Indigenous-Protection-of-Lands-Jan-2021.pdf  (en anglais)
[6] https://www.youtube.com/watch?v=g4VAZSRxo9M
[7] https://laprunellerdc.info/pnkb-victoire-judiciaire-pour-kasula-et-consorts-exclusif/
On Friday July 30, the military court in Bukavu, DR Congo, announced its decision to substantially overturn the sentences of Chief Jean-Marie KASULA and seven other defendants who had been arrested in January 2020 during a night raid on their village by the DRC's Armed Forces and the eco-guards of Kahuzi Biega National Park.
They were arrested and charged with charged with "criminal association", possession of a weapon of war, and malicious destruction of nature. After a one-day show trial before a military garrison court, with no ability to put up a defense, all eight were convicted. Six men were sentenced to 15 years each, and two women to one year each, along with a penalty of $5000 for each of the eight.[1]
The convictions were immediately appealed by attorneys for the Network of Congolese Foresters (RCF-RDC), which has a long history of defending indigenous rights and promoting indigenous community forestry. The lawsuit garnered national and international support, with over 100 organizations across DRC and around the world helping to promote and fund the effort.[2] The appeal was originally scheduled to be heard in May of 2020, but repeated delays on the part of the Court and the Prosecutors postponed the hearings until April of 2021.
Meanwhile, overcrowding, unsanitary conditions and lack of food in the prison led several of the convicted men to become seriously ill. Four were released pending the appeal (two women and two men, including Chief Kasula himself), but Kasula was re-arrested after going back into the Park. Chekanabo Kayeye, the other man who was released, died in late April of illness he contracted while in the prison.[3]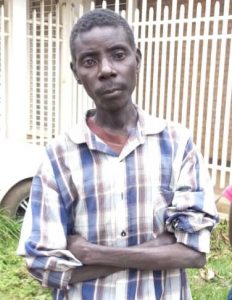 The legal appeal was based on the following grounds:
that the defendants were not a "criminal association" formed to loot the national park, but were rather a family returning to their traditional lands

that the "weapon of war" (a gun of the type used by the ecoguards and army) had been found on the ground by Kasula's family, who did not know how to use it and who were planning a trip to turn it over to the authorities the next day

that the defendants were not engaging in malicious destruction of nature, but had returned to the park to engage in subsistence practices as a last resort to stay alive, in the absence of any other options; the park being considered their "nourishing mother"

that the process of the original hearing and convictions violated most procedural rules designed to ensure fair and impartial trials
Friday's decision by the military garrison court in Bukavu tossed out the "criminal association"  charge, reduced the sentences from 15 years to 15 months (already served), and reduced the fines from $5000 to $500. The prisoners are to be freed on Monday.
This case is significant in the context of a growing global movement to end the so-called "coercive conservation" based on the expulsion of indigenous peoples and local communities.[4] Recent studies have shown that upholding the right of indigenous peoples to remain on their biodiverse lands not only protects human rights, but is also more effective at preventing poaching and deforestation.[5]
We gratefully thank:
the fantastic team of attorneys in Bukavu, led by Maître Adele Bisharhwa

our wonderful RIFE partner, RCF-RDC, who provided the ongoing research, logistical and administrative support, under the direction of Mr. Elikia Amani

the international organizations (Amnesty International, Minority Rights Group, Forest Peoples Programme, Survival International and Initiative for Equality) who provided funding for the effort

Attorney Lassana Kone of FPP, who provided ongoing review and advice throughout the case

all our RIFE partner organizations in Sud-Kivu Province who contributed information and perspective
See a video of the court announcement on Friday July 30 here [6] and read an article about the decision here (in French) [7].
Press Release 02 August 2021 FINAL
Please join us in celebrating this victory for Indigenous Peoples in the ongoing struggle to reclaim their land rights, economic survival, empowerment and well-being!
[1] https://www.initiativeforequality.org/indigenous-batwa-sentenced-prison-reoccupying-traditional-lands/
[2] https://www.initiativeforequality.org/declaration-de-solidarite-avec-les-peuples-autochtones-emprisonnes/
[3] https://www.initiativeforequality.org/attend-toujours-une-decision-still-waiting-decision/
[4] https://initiativeforequality.org/wp-content/uploads/Aires-Prot%C3%A9g%C3%A9es-en-RDC_Syst%C3%A8me-D%C3%A9faillant-FINAL-FR.pdf
[5] https://initiativeforequality.org/wp-content/uploads/Evidence-on-Indigenous-Protection-of-Lands-Jan-2021.pdf
[6] https://www.youtube.com/watch?v=g4VAZSRxo9M
[7] https://laprunellerdc.info/pnkb-victoire-judiciaire-pour-kasula-et-consorts-exclusif/